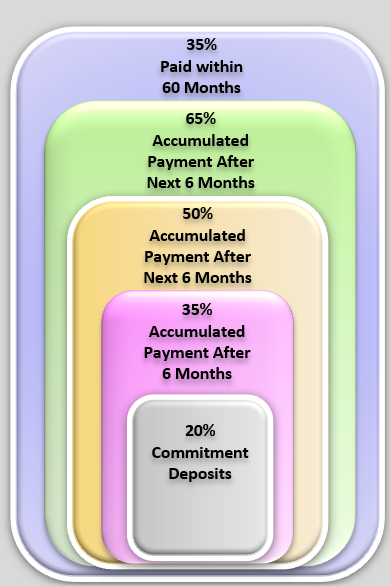 The payment policy requires that clients should pay at least 65% of the selling price before completion and handing over of property.
All property will be fully completed according to the minimum specification within 18 months from the date of commencement and handed over to the owner.
The clients will only have the right to resell the property after complete payment and title rights are obtained. However, exceptional approval should be obtained from the company otherwise.
The mortgage payment scheme could be adjusted to meet the client's cash flow pertain but at least 65% must be paid within 18 Months. However, a 5% discount if full payment is made at completion.
CORPORATE REAL ESTATE INVESTMENT SCHEME
Real Estate Investment (REI)
The Corporate institution takes some or all the properties and funds them using any of the Individual schemes.
The individual scheme will be made flexible to permit a payment plan proposed by the client, however, 60% must be paid before handing over the unit/s to the institution.
The outstanding payment will be paid within the next 5 years in an equal instalment or as may be agreed with the institution before the title deed is given. The funding institution can resell.
Employee Mortgage
The Corporate Institution gives the staff mortgage loans to cover the 60% which is paid directly to KAF Properties. Funds will be released according to the agreed individual scheme.
60% must be paid using any of individual schemes or a scheme as may be agreed with the institution.
The property will be considered as the collateral and only the amount disbursed will be the exposure.
The institution can pay the 40% or the staff will make the monthly payment for 5 years
Investment Partnering
The Corporate institution can have an investment partnering arrangement and enter a revenue-sharing plan with KAF Properties.
The properties will be funded by both parties and upon completion, the sale proceeds will be shared according to the terms and conditions of the agreement.
The corporate institution will be permitted to hire expert representatives to be fully involved in the process and ensure proper record-keeping and strict compliance with the agreed policy and process.
REI
Benefits
Broadening of revenue streams and high returns for investors.
Sound and secured mortgage investment proposition.
Ringfence high-performing staff and attracts top talents.
New source of foreign currency from overseas customers.
Deposits mobilisation for investment opportunities.
National real estate investment opportunities.
Potential US$160k savings for investment in the entire estate.